What we're hoping to accomplish

The main purpose of this site is to initiate a letter writing campaign, urging The Union of Concerned Scientists (UCS) to provide the public with an honest evaluation of the recent scientific evidence which sheds new light on the events of September 11, 2001.

As of 2012 a compelling body of research has been accumulated which shows that the three towers, which collapsed in New York on 9/11, had actually been rigged in advance with very high-tech explosives, including many tons of something called "nanothermite" (a substance related to the solid propellent used in the Space Shuttle's booster rockets). Additionally, the government's official technical explanations for the tower collapses appear to be deliberate and obvious efforts to cover-up this fact.

This is the position which has been put forward by people and organizations which collectively have become known as the 9/11 Truth Movement. If they're right, then what happened that day must have been very different from what we were made to believe and an entirely different list of suspects emerges.

Because the consequences of 9/11 are both profound and ongoing, and because whoever would have rigged those buildings with the nanothermite is likely walking around thinking that they got away with it, we absolutely need to know whether or not this is true. Citizens Aware and Asking intends to persuade "independent", scientific organizations (those not formally aligned with either the government or the established 9/11 Truth movement) to come forward and provide the general public with competent "third party" evaluations of the science involved. The Union of Concerned Scientists (UCS) is the most obvious example of such an organization, and is the main one from which we hope to obtain an "informed opinion".

Unfortunately UCS has chosen to play the role of bystander on this critical issue. We hope to create enough public pressure to change that.



What we're asking you to do

After reviewing the information in our site, we're hoping you will click on the link;
"Active Thermitic Material found in Dust from the World Trade Center catastrophe"
. Print that page (of course you should also download the PDF and review the actual study for yourself).
Mail it to the Union of Concerned Scientists at the address below. Request that they give you an honest evaluation of that science, as well as, provide real answers to the questions we asked them on June 13, 2012 (see the
video
at the bottom of this page).
Union of Concerned Scientists
National Headquarters
Two Brattle Sq.
Cambridge, MA 02138-3780
Phone: (617) 547-5552
Fax: (617) 864-9405


The Third Tower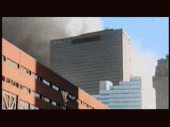 It was when we learned that a third tower (one that was not hit by an airplane) also collapsed on 9/11, that we first began to have some serious doubts about the official story.

World Trade Tower 7 (left), a 47 story modern steel framed skyscraper, located about 400ft from the North Tower, collapsed at approximately 5:20 pm on Sept 11, 2001. Tenants in WTC 7 included; the CIA, U.S. Secret Service, Department of Defense, Mayors Office of Emergency Management, and the Securities Exchange Commission (presumably containing evidence related to ongoing high level fraud investigations). Numerous speculative reasons exist as to why some people might have wanted this building, and it's contents, destroyed, but why it was demolished isn't something that we're concerned with, and neither is the question of who exactly did it. We do acknowledge the obvious however; If it was a demolition then somebody did it... and it was somebody with access, expertise, and foreknowledge of what was to happen that day.

The government concluded, from it's "official investigation", that the building fell because of "normal office fires", noting that it was the "first known example" of this ever occurring in the entire 100 year history of steel framed highrise buildings. Striking features of the government's investigation include;

1) They refused to test for residues of either explosives or incendiaries (independent scientists have demonstrated that huge quantities of these residues are present in World Trade Center dust).

2) The structural steel from the building was melted down and recycled prior to the start of their investigation.

---
UCS, Center for Science and Democracy launch event, where we asked them to evaluate the science behind 9/11 Truth

We've approached the
Union of Concerned Scientists (UCS)
with this, in part because they've been around for a long time and have a fair amount of prestige, but most importantly because;
what we're asking them for. . . is exactly what they claim to provide.
The Union of Concerned Scientists claims it wants to
"... strengthen American democracy by restoring the essential role of science, evidence based knowledge and constructive debate in the U.S. policy making system"
, and to ensure that our important policy decisions,
including those involving national security
, are
"informed by rigorous science".
The events of 9/11 have been used as a pretext to manipulate the American people into fighting two major wars, as well as for weakening some long held democratic protections. If
"rigorous science"
can prove that the event was actually some form of fabricated, high-tech deception, then UCS has an obligation to come forward and inform the public.
This quote is from our most recent correspondence with The Union of Concerned Scientists;

"I appreciate you contacting UCS on the important 9-11 issue. We are a modestly-sized nonprofit, and this issue is not one where we have particular expertise in, nor the capacity to take on."

Pallavi Phartiyal
UCS Senior Analyst and Program Manager, Center for Science and Democracy (from an e-mail we received on 12/5/12)



UCS however, has very competent physicists and mechanical engineers within their organization, and could easily review the published studies and government reports and provide a public statement as to the quality of the science contained within. Additionally, they have an entire staff dedicated to advising policymakers on
Nuclear weapons and Global Security
.
*How can UCS claim to provide advice on "Global Security" when two major wars are being fought based upon an event which, almost certainly, has been misrepresented (at the very least), and yet they refuse to even address the subject?
The Current Debate on 9/11
The authoritative technical statement of the government's story (airplane damage and fires as being sole cause of the building collapses) has come from a series of reports issued by a government agency called the National Institute of Standards and Technology (
NIST
). The lead investigators for NIST's
World Trade Center collapse analysis
are the structural engineers,
Shyam Sunder
and
John Gross
. Fraud and inadequacies in NIST's collapse analysis are, in part, what's being cited by the various grassroots organizations calling for a reinvestigation. One such organization, for example, is the over
1700 architects and engineers
who've signed a petition demanding a new investigation.
*One obvious way for UCS to "get us out of their hair", so to speak, would be to simply endorse the government's conclusions (the same holds true for the American Society of Civil Engineers, with whom we are also communicating). It is very telling that they would prefer to be thought of as being either uninformed, incompetent, or otherwise incapable of providing qualified scientific advice, as opposed to simply going on record endorsing the government's position!
Architects & Engineers for 9/11 Truth


This 1 hr documentary "Explosive Evidence - Experts Speak Out" provides a good overview of the available evidence.

A&E for 9/11 Truth

is one of the oldest and most active organizations trying to get this information out. We hope you will visit their site.

Our goal with

Citizens Aware And Asking

is to get straightforward opinions on the scientific validity of this information from the

Union of Concerned Scientists

and similar organizations.