Nanothermite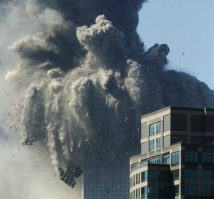 In the photo above white smoke rises from the locations where the North and South Towers once stood. Scan the images for any evidence of concrete floors stacked at the base of either tower. The near total absence of concrete in the debris, as well as numerous other anomalies, alerted scientists to the likelihood that explosives were involved. Try and come up with a logically satisfying reason, to not at least test for explosives, especially after viewing the event pictured (left), or the debris field shown above.

NIST adamantly refused to actually examine World Trade Center dust for explosives, this includes even after being told of the presence of both residue and active explosive material.


---
Jet Fuel is Kerosene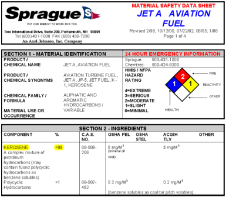 Component %
___________________________
Kerosene >99

For background info, it's important to know that jet fuel is essentially just kerosene.

The steel and concrete towers were in effect damaged across several floors and doused with kerosene (which burned off within 15 min according to the government). The government's story requires that everything which occurred after that point is the result of gravity and burning office furnishings.


---
Steven Jones describes the analysis of WTC dust and the discovery of the novel explosive materials it contained


American Physicist, Steven Jones of Brigham Young University became the first scientist to conduct a forensic analysis of dust from the World Trade Center collapse. Excerpt from the movie hypothesis.

This image is from the scientific forensics Co, RJ Lee Group's, website. In 2002 they were contracted by Deutsche Bank to determine the health risk

posed by WTC dust. This was used in litigation to determine whether or not their building, which was located across from the WTC complex, was salvageable. Part of the "signature" of WTC dust that RJ Lee established, was the abundant presence of these tiny iron micro-spheres which are formed when molten iron is sprayed into the air under pressure, and then cools to a solid prior to settling.

" Various metals (most notably iron and lead) were melted during the WTC event, producing spherical metallic particles"

.

Link

USGS observed these iron rich spheres as well, and also noted a sphere composed of Molybdenum, which melts at 4,753 °F.
Link
Below are two efforts by NIST to address the "problem" of molten steel/iron at ground zero

Because the maximum temperatures achievable in office fires are still about 1000 °F, too low to melt iron/steel

, NIST's John Gross, simply denies having knowledge of any reports of molten steel (in spite of the fact that many such reports were aired on national television).

*also see Dr Astaneh's statement

about seeing "molten girders" in our

"questions about the official investigation"

.

He's sitting next to the director of NIST at the hearings.NIST's lead investigator Shyam Sunder instead proposes that "shielding"

could be responsible. According to Sunder if you bury a fire with debris, the material above can act as a form of insulation, allowing the fire to burn much hotter than it otherwise would.

This would imply that burying the fire in your fireplace could result in melting the grate.

Listen for yourselves... we're not making this up!
Additional testimony to molten steel

Mark Loizeau
, President of Controlled Demolition, Inc., which helped with the clean up, said that several weeks later, when the rubble was being removed, that "hot spots of molten steel" were found " at the bottoms of the elevator shafts of the main towers, down seven [basement] levels." 5
Peter Tully
, president of Tully Construction also said he saw pools of "literally molten steel" at the site. 6
Leslie Robertson
, a member of the WTC engineering team, stated "As of 21 days after the attack, the fires were still burning and molten steel was still running." 7
video
William Langewiesche
, the only journalist who had unrestricted access to Ground Zero, wrote of going to "areas where underground fires still burned and steel flowed in molten streams." 8
5,6
911review
7 News: The Newsletter of the Structural Engineers Association of Utah, October 2001
8 William Langewiesche, American Ground: Unbuilding the World Trade Center, NY, North Point Press, . 31
NASA thermal images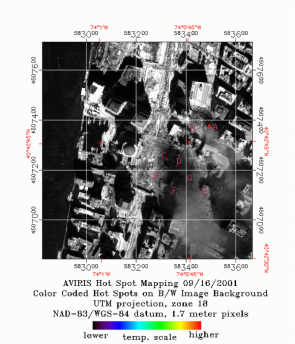 On September 16, the United States Geological Survey (USGS), commissioned NASA to preform a thermal mapping of the surface of ground zero. There were no surface fires and the site had been rained on twice, as well as, hosed down by the fire dept. Thermal imaging, none the less, showed hot spots over all three collapsed towers in excess of 1100 °F, with a reading of 1341 °F measured over tower 7. The actual source for these surface temperatures was buried many stories below the surface and had to have been much, much, hotter.
Link to USGS page
---
Fires at Ground zero lasted into December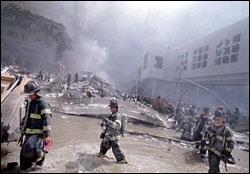 Despite millions of gallons of water, thousands of gallons of chemical fire suppressant, that they were buried with rubble in the first place, and the fact that by design and code, modern steel frame highrise buildings contain relatively little combustible material, the fires at ground zero persisted for over 3 months.



---

Neils Harrit discusses nanothermite

| | |
| --- | --- |
| | Professor Neils Harrit, from the University of Copenhagen Denmark, lead the team of scientists which produced the published study confirming the presence of nanotechnology derived explosive materials in World Trade Center dust samples. |
Heat generated by collapse


All three collapses were associated with "pyroclastic" clouds which expanded up to 1/2 mile into the wind direction and set cars on fire many blocks away from the towers themselves.

Firefighters on scene described the expanding cloud with statements like; "I got knocked down…I thought it was some kind of thermal explosion," and "I had kind of ideas that it was going to be something like Hiroshima where all this heat was coming at me… ", and "when the black smoke came it was such high heat that I had to get down on one knee" (firefighters De Simone and Quick from the World Trade Center Task Force Interviews).


First physician to enter ground zero

Dr Michael Karch entered ground zero
at approximately 7pm on 9/11/2001. In this 20 min interview he describes the process of setting up on site medical operations. His observations testify to the presence of inexplicable, extreme temperatures. He corroborates reports of molten steel and describes the dessicated, almost "mummified", appearance of the
v
ictims located within the perimeters of the collapsed towers.
Link to interview