Fire Engineering Magazine 01/01/2002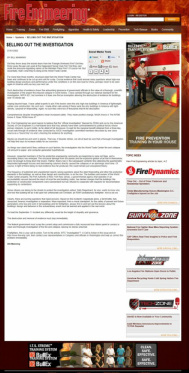 "For more than three months, structural steel from the World Trade Center has been and continues to be cut up and sold for scrap. Crucial evidence that could answer many questions about high-rise building design practices and performance under fire conditions is on the slow boat to China, perhaps never to be seen again in America until you buy your next car."

"Such destruction of evidence shows the astounding ignorance of government officials to the value of a thorough, scientific investigation of the largest fire-induced collapse in world history. I have combed through our national standard for fire investigation, NFPA 921, but nowhere in it does one find an exemption allowing the destruction of evidence for buildings over 10 stories tall."

" Fire Engineering has good reason to believe that the "official investigation" blessed by FEMA and run by the American Society of Civil Engineers is a half-baked farce that may already have been commandeered by political forces whose primary interests, to put it mildly, lie far afield of full disclosure. Except for the marginal benefit obtained from a three-day, visual walk-through of evidence sites conducted by ASCE investigation committee members- described by one close source as a "tourist trip"-no one's checking the evidence for anything."

These quotes are from Bill Manning the editor of fire engineering magazine in an editorial dated 1/1/2002.


---
A single sentence in NIST's Final Report on the collapse of WTC 7 addresses why they have included no examination of structural steel in their collapse analysis

ES 2.2 This Report
This is the final report of the National Institute of Standards and Technology (NIST) investigation into the
collapse of WTC 7, conducted under the National Construction Safety Team Act. The report is the result
of an extensive, state-of-the-art reconstruction of the events that affected WTC 7 and eventually led to its
collapse. Numerous facts and data were obtained, then combined with validated computer modeling to
produce an account that captures the key features of what actually occurred. However, the reader should
keep in mind that the building and the records kept within it were destroyed, and the remains of all the
WTC buildings were disposed of before congressional action and funding was available for this
Investigation to begin. As a result, there are some facts that could not be discerned, and thus there are
uncertainties in this accounting. Nonetheless, NIST was able to gather sufficient evidence and
documentation to conduct a full investigation upon which to reach firm findings and recommendations.

NIST NCSTAR 1A
Federal Building and Fire Safety Investigation of the
World Trade Center Disaster


The Destruction of Evidence at Ground Zero

| | |
| --- | --- |
| | The context this testimony is that select members of the American Society of Civil Engineers, acting on behalf of the U.S. government, had conducted what, at that point, was the only official technical investigation of the collapse site. Ground Zero was an FBI controlled crime scene in which martial law had been declared. These are important facts to keep in mind when Dr Corley claims that he 'didn't know he had the authority to ask the City of New York to stop destroying evidence'. *also remember Dr Astaneh's little comment about the molten girders when you view the "thermite" section. |

This speech (from a 2009 Architects and Engineers for 911 Truth press conference) details the relevant national standards for fire investigations

Shyam Sunder explains NIST's rational for not examining WTC dust for explosives