Steel Framed highrise collapses prior to 911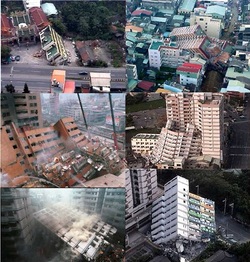 Prior to 911 steel frame highrise buildings have only ever collapsed in large earthquakes. In those rare examples where these collapses occurred, they have always been asymmetric with the buildings toppling over to one side, or the other, as pictured left. Only in demolitions (and on 911 according to our government) has a steel superstructure ever collapsed straight down, directly through what should be its path of greatest resistance.

Making a building fall the way tower 7 did, is generally considered to be both an art and a science. The government claims that it happened "by accident" on 9/11

The 911 Truth movement makes a compelling case that what we witnessed on 911 were in fact building demolitions, which had been rigged in advance, and that the government's technical investigations are deliberate coverups.


---
World Trade Tower 7 collapse


All vertical support disappeared at the same instant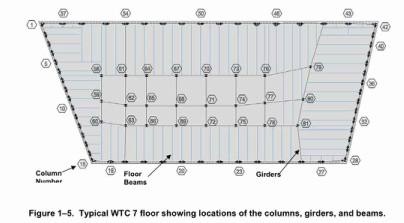 We watched the exterior of the building descend level in all planes. This means that those 57 vertical columns which ring the perimeter must have all collapsed at the exact same instant (even though the ones on the east face are, for example, 100m away from those on the west face)

Measurements of the downward acceleration of the exterior of the building show it to be in absolute free-fall from the onset of movement, and that free-fall persisted for the first 8 stories of collapse. That is, it was falling just as it would if all support had simply been "yanked out" from underneath it

Our question . . . we observed the instantaneous, simultaneous, and complete disappearance of any structural support from all existing perimeter columns. The government says this resulted from a sort of 'domino effect' starting when "thermal expansion" unseated interior column number 79. The 911 Truth movement claims that this is impossible, what we had watched was an engineered demolition. Who's correct?

*We have essentially been trying for months to get an unambiguous endorsement of the government's (NIST's) conclusions from the American Society of Civil engineers (the organization which had conducted the initial technical investigations of the building collapses on 9/11, and had recommended the follow-up comprehensive investigation by NIST). This is from their most recent response, which we received on 12/7/12;

"As I'm sure you are aware, the NIST studies deal primarily with the structural mechanisms surrounding the collapse of WTC 7 which is outside of my area of expertise and hence I am not qualified to provide the assessment of the NIST report that you seek." . . . " I encourage you to take your concerns to your elected officials"

Patrick J. Natale, P.E., F.ASCE, FASAE, CAE Executive Director American Society of Civil Engineers
---
NIST's explanation WTC 7


The following short video was released by NIST along with

their report

claiming that tower 7 was the 1st ever example of a steel framed building collapsing due to fire. This is followed by NIST's lead investigator, Shyam Sunder, answering questions related to WTC 7's rate of collapse.

NIST Computer models


Below are the two computer generated animations released by NIST which, they claim, proves their thermal expansion theory. There are not longer, or "better" ones, this is all they released to the public. The actual data, that they feed into their computer to generate these animations, remains classified.


Video of WTC 7 just prior to collapse

Videos showing much of the perimeter of tower 7 just prior to collapse. (note; The reporters brief comments at the end provide some insight into how, what initially appeared obvious to observers, could become unthinkable as a result of repeated government assertions to the contrary)


911 Truth critique of NIST's findings

What follows are selections from a series of videos produced by David Chandler, a high school physics teacher from California, who provides a reasonable discussion of the collapse rate and what "free-fall" implies

Shyam Sunder explains the challenge NIST faced in determining a collapse mechanism for WTC 7. This is followed by reports of explosions from the last people who were actually inside of tower 7, and finally, NIST's rational for ignoring them


NIST's reason for not following up on witness reports of explosions associated with the collapse of tower 7 . . .

The "the science [supporting the thermal expansion theory] speaks for itself and it's pretty robust", making it therefore unnecessary to speak with those witnesses.

*It was however, a full year and a half into the investigation before NIST's investigators finally had the "insight" that a collapse induced by thermal expansion, was even possible. No explanation is given for why witness reports of explosions were ignored during that time period.

Statements from the last persons known to have been inside of tower 7, suggest that the building was weakened progressively by a series of explosions, stretched out over many hours, and which culminated in the demolition that occurred at 5:20pm. Those explosions started prior to the collapse of either of the twin towers.